Nairobi National Park
Welcome to Nairobi National Park "The World's only Wildlife Capital" , located just 7 kilometers from the city center. It is the only protected area in the world with such a huge variety of animals and birds close to a capital city. The park was officially opened in 1946, and was the first park to be gazetted not only in Kenya but also in East Africa. It covers an area of 117km2, on 45 square miles and lies about 5000-6000 feet (1500-1800 meters) above sea level.
The park's vegetation is primarily savannah and plains and has areas of highland forest, acacia and riverine environments which play host to a wide variety of wildlife including the endangered black rhino, lions, leopards, cheetahs, hyenas, buffaloes, giraffes and diverse birdlife with over 400 species recorded. It is also one of Kenya's most successful rhinoceros sanctuaries.
The park is governed by the Kenya wildlife service ( KWS ) whose head offices are located at one of the main gates of this park. This authority runs similar functions in all National parks in the country with the exception of national reserves.
Wildlife
Nairobi National Park has a large and diverse wildlife population. Animals easily spotted in the park include; African buffalo, baboon, eastern black rhinoceros, gazelle, Grant's zebra, cheetah, Coke's hartebeest, hippopotamus, African leopard, lion, common eland, impala, Masai giraffe, ostrich, vultures and waterbuck. The park also has high diversity of bird species with over 400 endemic and migratory species. Inside the park there is a santuary run by David Sheldrick Trust, that hand-rears orphaned elephant and rhinoceros calves, and later releases them back into secure sanctuaries. The sanctuary is located close to the park's main entrance. It was opened in 1963. It was set up by Daphne Sheldrick after the death of her husband David Sheldrick, the anti-poaching warden of Tsavo National Park.
Best time to visit the park
Nairobi National Park is open all year round and can be visisted any time, but the dry season from June to September is generally the best time for wildlife watching, when animals can easily be seen around water sources. Wildlife watching is usually difficult during the raining season ( between March and May and October to November ). During these months, rainfall might restrict game drives and the grass tends to be very high.
How to get to the Park
The Park has 7 gates, 2 gates being for KWS service use only. The gates are; KWS headquarters, Langata road, Langata Gate, Maasai Gate, Mbagathi Gate(service gate),and Banda Gate(service gate).
By road: the park is approximately 7 kilometers south of the city center and about 10 kilometers from Jomo Kenyatta International airport.
By Air: international tourists fly to Jomo Kenyatta International airport and tourists on a combined safari can use domestic chartered flight to Wilson airport then drive to the park.
Accommodation
Nairobi National Park has several high quality accommodation options, located both inside and outside the park at distinct areas to suit every budget. Nairobi Tented Camp is the only camp located inside the park. The other hotels, camps and lodges are located outside the park some of which include; Emakoko Lodge, Eka Hotel, Panari Hotel, African Heritage House, Acacia Camp Swara Plains & Ole Sereni Hotel.
Nairobi National Park Entrance Fees Applicable 2022 ~2023
category

non-residents
Low Season ~ March to June
High Season ~ July to February

east african resident/kenya citizen ~ Low Season
east african resident/kenya citizen ~ High Season
Adult
US$ 40
US$ 60
Ksh 400
Ksh 500
Child***
US$ 20
US$ 20
Ksh 215
Ksh 215
Student****
US$ 20
Ksh 215
Ksh 215
**Resident rates are applicable to residents of Kenya, Uganda, Tanzania, Rwanda and Burundi. Visitors are required to present their National ID (for Kenyan citizens) or Passport displaying Work permits or appropriate Visas to prove resident status upon entrance into the reserve. Visitors without a valid passport are required to pay the non-resident rates.
*** Child rates are applicable to persons 3 to 11 years old. Persons under 3 are free.
****Students rates are only applicable for persons aged up to 23 years old, sponsored by a recognized learning institution, and in possession of a valid student ID and visiting the reserve on a pre arranged school-organised trip or for research authorized by KWS ticketing office at Nairobi National Park. Students must obtain permission to use these special rates at least two weeks in advance of their visit.
Vehicle entry fees
safari vehicle
Less than 6 seats
Ksh 300
6 - 12 seats
Ksh 1,030
13 - 24 seats
Ksh 2,585
25 - 44 seats
Ksh 4,050
45 seats and above
Ksh 5,000
trucks
1 - 3 tons
Ksh 515
4 - 7 tons
Ksh 2,155
8 tons and above
Ksh 3,015
aircraft single landing fees
| aircraft capacity | landing fees |
| --- | --- |
| Up to 3 seats | Ksh 300 |
| 3 - 6 seats | Ksh 500 |
| 7 - 14 seats | Ksh 1,000 |
| 15 - 20 seats | Ksh 2,155 |
| 21 seats and above | Ksh 3,015 |
Nairobi National Park Rules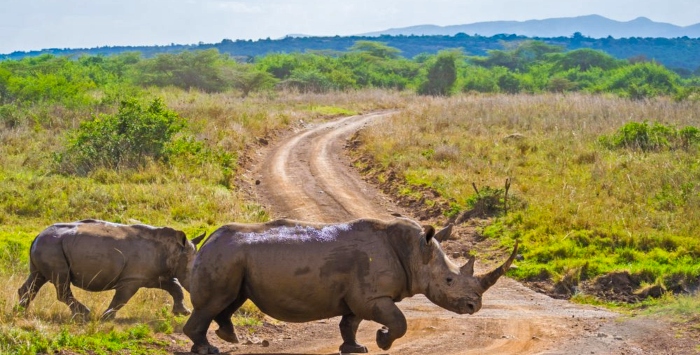 Various National Park Rules are in place to ensure that tourists are able to enjoy their visit without endangering themselves or the wildlife in the park. Please respect the Nairobi National Park rules and the park officials who are there to protect visitors, the wildlife and the environment.
Below are Park Rules and Regulations:
Driving in the parks is allowed between 6 am and 6 pm only.
The speed limit in the parks is 50km/h and 25km/h in the Nyerere Park.
Animals always have the right of way.
Never feed animals. It will upset their diet and lead to an unnecessary dependence on people.
Keep to the authorized tracks only.
Do not pick, cut or destroy any vegetation or remove any object of biological interest, including eggs, bones and trophies.
Camping is allowed only in designated sites.
Picnicking is allowed only at designated sites.
Do not disturb or harass the wildlife in any way. Radios and music players are forbidden. Please do not imitate animal's sounds, clap or pound on vehicle or hoot. Do not throw objects to attract animal's attention.
Do not litter. Keep your waste in the vehicle until it can be properly disposed later at your lodge or camp. Litter can choke or poison animals and birds.
Do not smoke while on game drive and always dispose cigarettes carefully. A burning cigarette can start a wild fire that would cause damage to vegetation and suffering to wildlife and people.
Do not light or cause fire to be lit. If camping, be sure to extinguish your fire carefully.
All visitors must remain in their vehicle within 200 meters of any game animal. Leaving the vehicle in the parks is forbidden except in designated places.
Discourage your driver from approaching the animals too close (25 meters). Lions, cheetahs and leopards are especially nervous; a vehicle can hinder their hunting or make them leave a hard earned meal. Your driver may be banned from the area and/or lose his job.
Domestic pets are forbidden in the parks.
It's is not allowed to use/operate drones in any park.
Leave the park undisturbed by not leaving or removing anything, animate or inanimate.
Our eco-system depends on a very delicate balance. The less we disturb it the longer we can enjoy it.