How to get to Masai Mara: Journey from Nairobi to Masai Mara Reserve
Here we list the best ways of getting to Masai Mara from Nairobi, the capital city of Kenya. The road distance from Nairobi to Masai Mara Game Reserve is about 225 kilometers ( 140 miles ) to the nearest entry point, though this differs depending on which entry gate you plan to access. One of the most common questions from tourists is how long is the drive from Nairobi to Masai Mara. So the road trip from Nairobi to the reserve takes about 6 hours, and this is to one of the nearer entry gates in the Mara, on the Narok side of the reserve such as Sekenani, Talek or Oloolaimutia gates. This 6 hour journey includes a couple of brief stops. The entry gates on the western side of the reserve such as Musiara or Oloololo take about 30 minutes longer using a different route which turns west onto the B3 highway towards Bomet, just after passing Narok town. Road conditions are poor in places with the last 75 kms to the reserve being on a bumpy gravel road.

Flying to Masai Mara is a more convenient option, being only about a 1 hour flight from Wilson Airport in Nairobi to a variety of different airstrips in the Mara.
Listed below is relevant information on how to reach Masai Mara by road and air from Nairobi with information also on how to reach Masai Mara and Kenya from overseas, such as from USA, UK, Canada, Europe, Australia India and Dubai UAE. You may contact us for international flight options.
By Road from Nairobi to Masai Mara
By far the most popular mode of transport from Nairobi to Masai Mara is by road. The road is currently tarred all the way from Nairobi to Masai Mara ( Sekenani Gate ). The distance varies from 225 km ( 140 miles) to 275 kms ( 170 miles) depending on which gate or entry point of Masai Mara you want to access. Well, in terms of journey time, typically you want to allow for 5.5 hours for most eastern or Narok side reserve entry gates such as Sekenani, Talek and Ololaimutia and upto 6 to 6.5 hours for Musiara ( Narok County side but on the Western side) and Oloololo gate ( closer to the Maasai Mara Conservancy and Mara Triangle) and this includes a couple of brief stops enroute for a fuel stop and washroom break in the small town of Narok.
Route: Use the A104 highway heading out from Nairobi city and onto the B3 just before the Limuru junction. (If leaving from JKIA airport, use the Southern Bypass to connect to A104 at Kikuyu town to cut out the city traffic). Once at Narok town you now take the C12 road to Sekenani, Talek and Ololaimutia gates or the C13 to Musiara and Olololo gates as well as Rianta town. This latter road is best done in 4x4 vehicles as it is rougher.
Road Conditions
We often get asked how the road is to Masai Mara by prospective clients planning their safari. Well, most of the route is actually a tarred road starting with highway A104, B3 and finally C12, except for the last section of approximately 1 hour. The tarmac portion of the tarmac road is however in sub standard condition in certain places which includes a few stretches with potholes, while the last unpaved portion can be bumpy and dusty, which however for some simply adds to the adventure of getting to the African wilderness.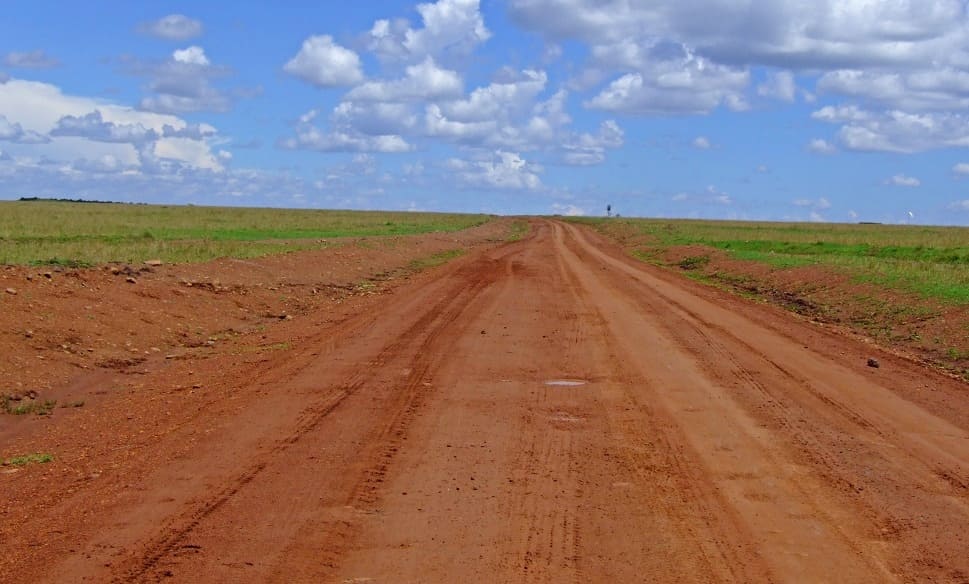 A road in Masai Mara in the Western side of the reserve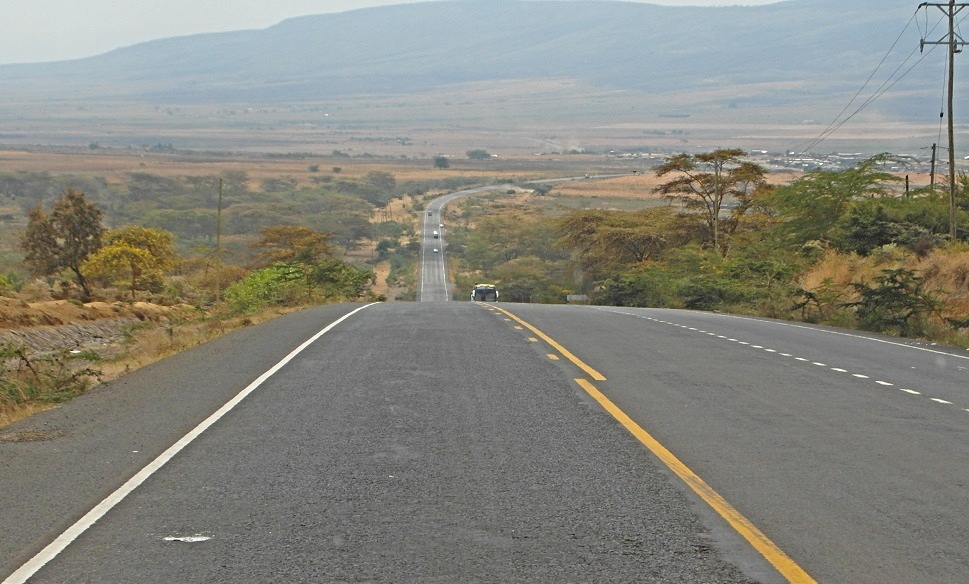 The Nairobi - Mai Mahiu - Narok highway heading to Masai Mara
Safari Vehicles
So which type of Safari vehicles do you get in Masai Mara ? There are two basic types of vehicles commonly used for Safaris in Kenya and generally in East Africa for that matter and these are the Safari Tour Minibuses ( Tour Vans) and the 4x4 Safari Jeeps, typically Toyota Landcruiser or less commonly Landrover vehicles. All types of vehicles have built in, pop-up game viewing roof hatches which the Driver opens once on a game drive in the park or reserve, UHF Radio Calls and Cooler Boxes. The Tour Vans cost much less than the four wheel drive Safari Jeeps. Should be noted that there are some tour vans which also come with 4x4 capability, albeit with the lack of ground clearance or off road ability that comes with a Landcruiser. Both types of vehicles typically seat a maximum of 7 passengers with 6 being ideal and 8 passengers being the upper limit with an extra seat fitted into the vehicle. Luggage restrictions apply.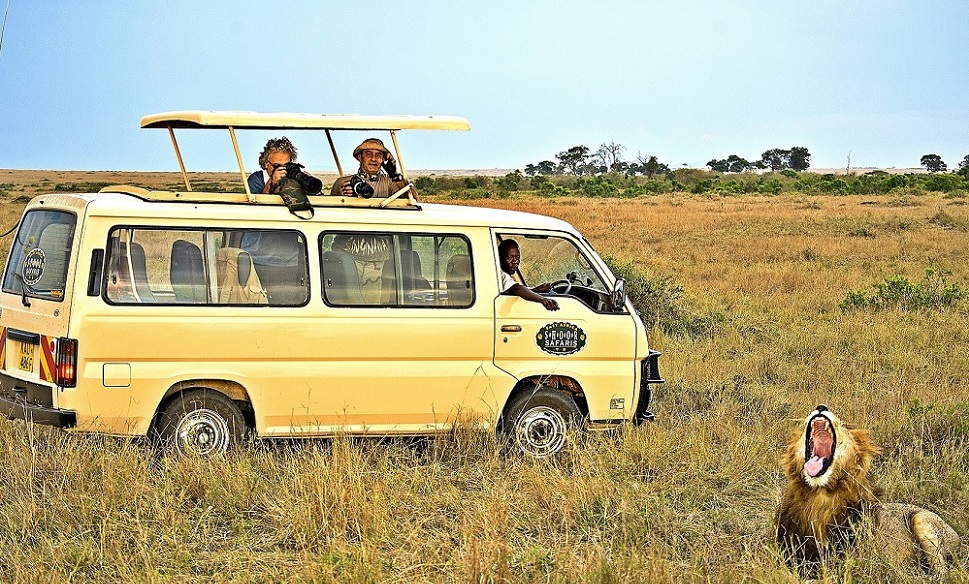 Typical Safari Tour Van or Minibus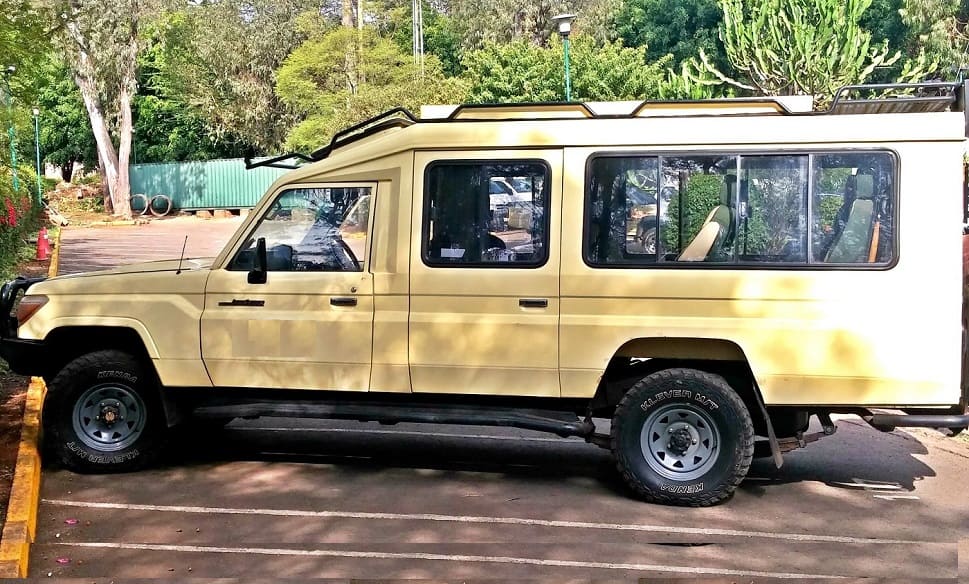 Typical 4x4 Safari Jeep Landcruiser
Flights to Masai Mara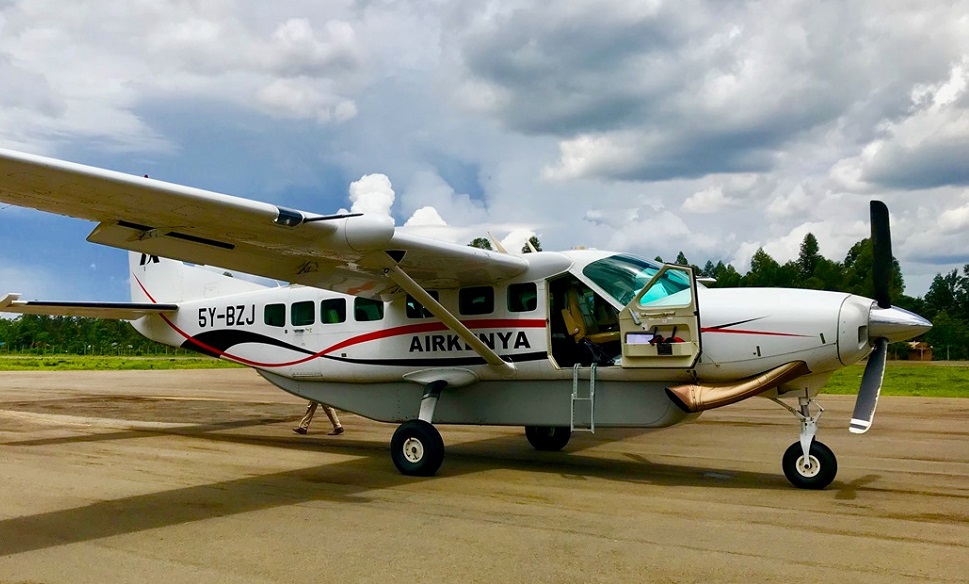 There are several airlines flying from Nairobi to various airstrips in Masai Mara, and several of these offer twice daily return flight to the reserve, with a one way flight taking approximately 1 hour. The same plane then usually turns around back to Nairobi after dropping off or collecting passengers from a number of airstrips in Masai Mara. Almost all these flights take off from Wilson airport in Nairobi ( as opposed to the JKIA international airport) and you need only be at the airport about 45 mins prior to the flight. The two main airlines are Air Kenya and Safarilink, with a new entrant being Governors Aviation. All these three airlines have a reliable service and credible safety record.
Airstrips to Masai Mara
There are close to a dozen airstrips in Masai Mara National Reserve and surrounding game ranches and conservancies. These airstrips are spread out in different parts of the reserve to serve lodges and camps in close proximity to them inorder to cut down transfer time from the airstrip to the hotel. Listed below are some of the commonly used airstrips in Masai Mara.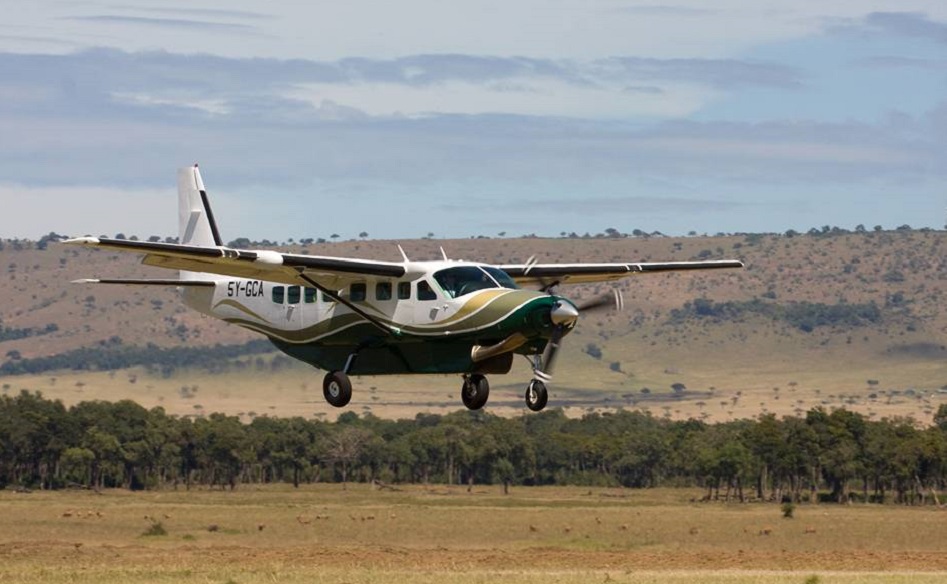 The type of aircraft used for flights to Masai Mara include propellor planes with seating capacities ranging from 40 seaters for DeHavilland Dash 7 and 8 aircraft to 13 seater Cessna Caravans. Passengers are limited to 15 kilos of carry on and check in luggage combined.
For travellers planning to combine Kenya and Tanzania Safaris, we have a short guide on how to travel between the Masai Mara and the Serengeti either by road or by air.