hot air balloon safari in Masai Mara
A truly 'once in a lifetime' experience, flying in a Hot Air Balloon over the Masai Mara plains is an evocative experience that you have the chance to enjoy during any safari you take to Maasai Mara. The balloon take offs at the break of dawn, around 6am, gliding silently during the ride over the savannah grasslands below where you may spot a variety of wildlife. The flight lasts an hour and concludes with a ''Champagne Bush Breakfast'' at the balloon landing site in the wilderness. The balloon is flown by a fully qualified and experienced Pilot and the balloons themselves are most often made by Cameron, a specialist hot air balloon manufacturer in Great Britain. The basket sizes vary and it is best to book the ride in advance as space is typically limited to a maximum of 16 passengers per balloon, often less if flying with a smaller basket. Images courtesy of Governors Balloons.
Prices for the 2023 ~ 2024 season range from US$ 455 to US$ 515 per person depending on which camp or lodge you will fly from in Masai Mara.
Child rates are available in certain cases for children under 12 years of age.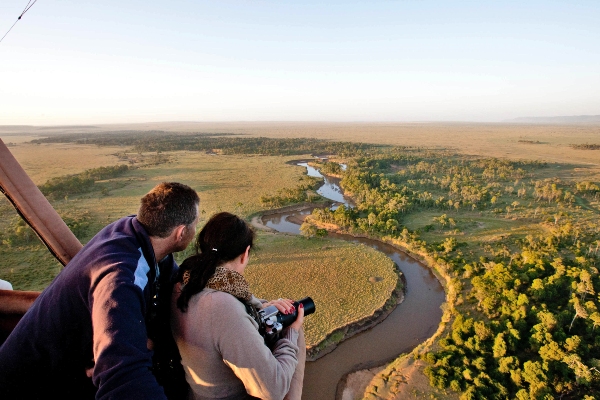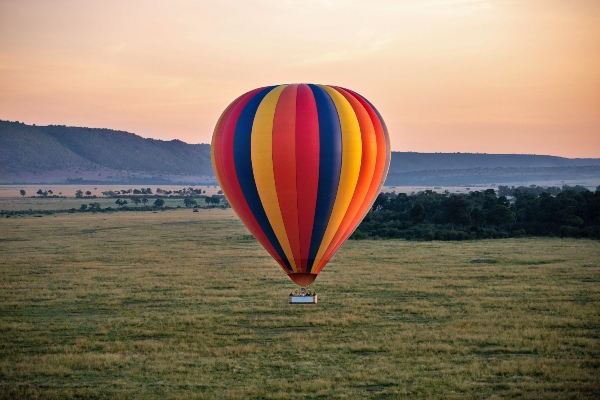 An early start is necessary with passengers expected to be ready and waiting by 5 to 5.30am at their respective Lodge or Camp reception desks, this again dependent on how far you are from the take-off site. You will be collected for a transfer by road to this take off site, with the flight typically being air borne by 6.00 to 6.15am. During the flight you will fly over various parts of the Mara reserve below. Upon landing about an hour later, a delicious sit-down breakfast awaits, complete with waiting staff and a full hot breakfast 'in the bush' accompanied by chilled sparkiling wine or champagne. Drop off back to your hotel follows right after breakfast, with a brief game drive enroute.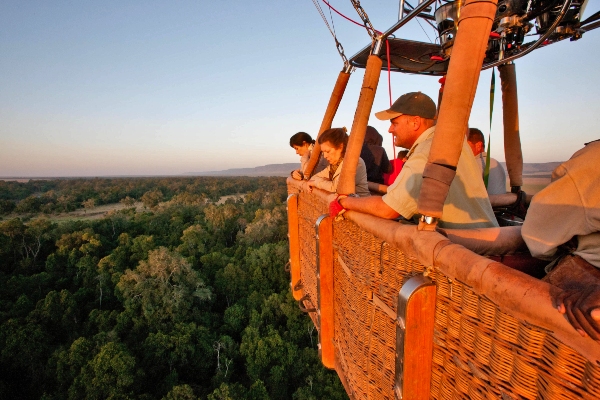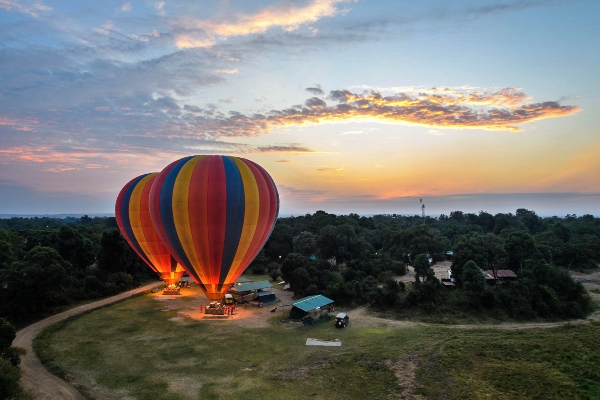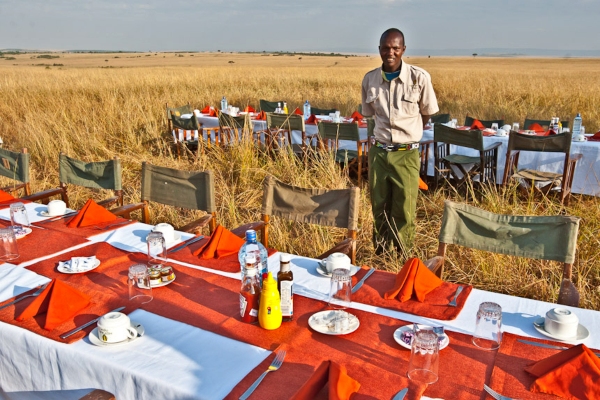 Booking the Balloon flight: Please send us your preferred date which has to be at earliest, the second day of your stay in Masai Mara.
We need to know where in Masai Mara you will be staying the night before, so as to check if a timely transfer is possible to the nearest Balloon ride take off site. Cancellations due to the Balloon not taking off are a possibility though rare, mainly due to adverse weather conditions, such as strong winds or heavy rain. In the event of a Balloon not taking off, passengers are refunded in full less minimal administration fees.
You may also check out Amboseli Balloon Safaris and our Masai Mara Honeymoon Safari packages.