Safari Gamedrives
So what really are ''game drives'' in Masai Mara or during an African Safari, as anyone thinking of booking a Safari in Kenya for example will have seen game drives throughout the itinerary. Well, game drives are adventurous excursions into a wildlife area such as a National Park or Reserve, for example Masai Mara, with the purpose of exploring the park and seeing a variety of wild animals in their natural habitat.

Safari game drives usually last from 2 to 3 hours each for morning and afternoon drives, with morning timings typically being 6.30am to 9am and afternoon timings being 3.30pm to 6.30pm, though tourists may sometimes opt for a Full day drive generally from 10am to 4pm including a packed picnic lunch.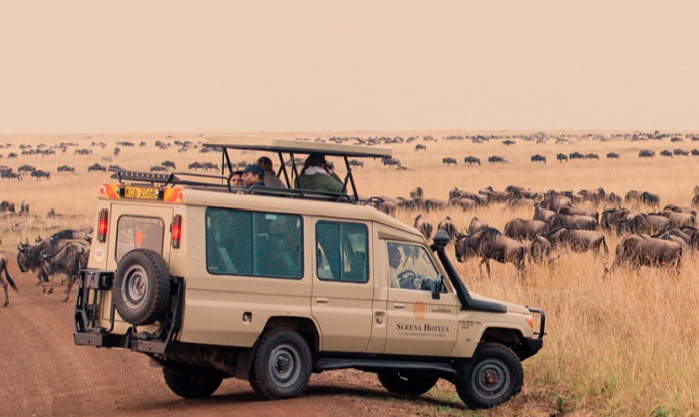 Most road safari include Private safari gamedrives while Fly~In tour packages where gamedrives are provided by the Camp or Lodge will usually have non-private drives, which basically means other hotel guests may also occupy the same safari vehicle. Seating capcity of the vehicles is generally a maxmum of 6 to 8 passengers so it never is a large group, and do keep in mind not all vehicles carry this many unless the hotel is full or has high occupancy. Private game drives though have their advantages as you get a higher degree of personal freedom and flexibility in terms of timings and convenience. Tourists with special interests such as Photography or Bird Watching are always advised to opt for private and exclusive game drives.
types of safari vechicles
Vehicles used for game drives are mostly those provided by the Safari operator especially when you have booked a Road Safari from Nairobi. These vehicles could be Four Wheel Drive Toyota Land Cruiser Jeeps or non 4x4 Tour Vans also known as Minibuses. Both these vehicles have game viewing roofs and are safari customized.
However if you fly into Masai Mara and book game drives with the Lodge or Camp , then you may find some of these offer drives in 'open' sided 4x4 safari jeeps. These open side vehicles are not suitable for highway travel hence are restricted to ferrying tourists only in the reserve.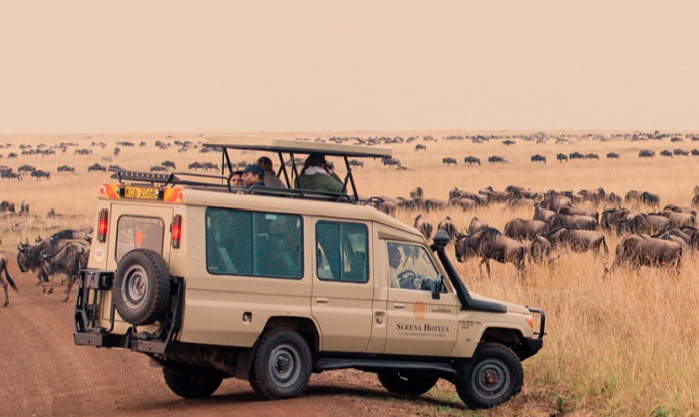 4x4 safari land cruiser jeeps
These Safari jeeps are almost universally used by all hotels ( camps and lodges) in Masai Mara as they tend to perform best in all-weather and all-terrain situations. These vehicles commonly seat 6 to 7 passengers and have multiple game viewing roofs or are open -sided. Reliable, robust and larger while also being marginally more confortable than the only other option, the Tour Van / Minibus - see below.
enquire now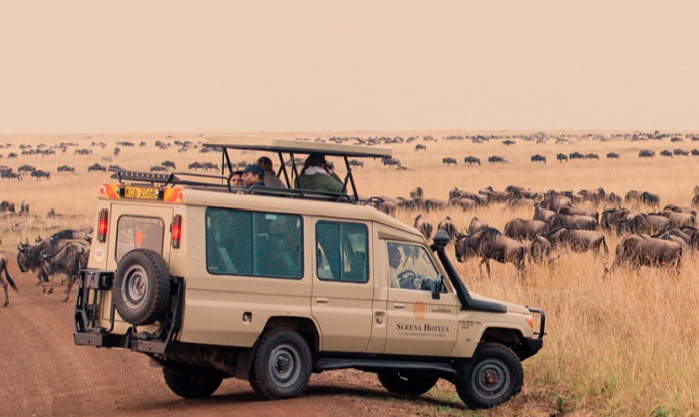 safari tour minibus / van
These vehicles offer the best value and unsurprisingly, the vast majority of Safari tourists to Kenya still do Less cosly than 4x4 Landcruiser or Land Rover Jeeps, minibuses seat 6 people in comfort each with their own window seat, though some vehicles are configured to take upto 9 passengers. Though not usually 4x4, these safari vans are agile, reliable and are perfectly capable of handling almost all road Safari trips available in Kenya. Only a few select locations in Kenya necessitate using a 4x4 Safari Jeep either due to road conditions or due to local conservancy rules which allow entry only for 4x4 vehicles.
enquire now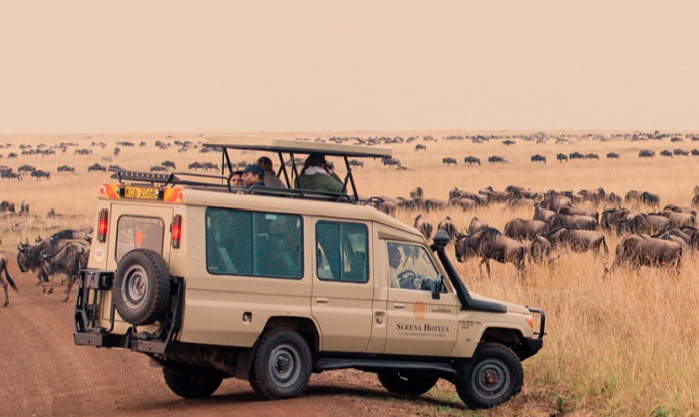 4x4 open side safari vechicles
Almost always only found stationed at Safari Camps or Lodges withing parks or reserves, these vehicles are popular as they allow an unhindered side view during game drives. Visitors to Masai Mara who absolutely require this type of vehicle are advised to bring this up with their Safari outfitter during the trip planning process and this would most likely result in the operator booking a ''Flying Safari package'' which simly means you take a short one hour flight from Nairobi to Masai Mara, where you will then be provided game drives in this type of vehicle, though you may want to note that there are certain lodges and camps which do NOT use these open sided vehicles and opt for the more common enclosed safari jeep with overhead game viewing roofs. Do check these details at time of booking.
enquire now
video of safari gamedrive in masai mara
Video footage of an exciting Safari gamedrive in Masai Mara National Reserve in Kenya.