Is Masai Mara a Forest or Typical Jungle ?
The answer to this question is that "Masai Mara Forest" is actually a misrepresentation of the reserve. When we talk of a forest we have in mind dense or thick tree and vegetation growth where visibility is limited to the next tree or just a few meters ahead or where you have to walk or drive through jungle type tracks overflowing with bush and vegetation. Actually in reality, Masai Mara is open, unforested grassland over a gently rolling landscape, known in East Africa as a typical Savannah vegetation zone.
Yes, there are patches of what you can call forests, but these are scant and quite light. In fact, the word "Mara" itself is Maasai language for ''spotted'', referring to the few small bushy trees that dot the landscape, as opposed to thick forest which you may see in the Amazon or in Central Africa or even Uganda. In Masai Mara you can see for miles on end which is why the Big Cats such as Lion and Cheetah adapt to weel to this environment where they need to chase their prey unobstructed for long distance. There are scaterred areas where the tree growth is thicker and more concentrated but these areas are few.
Picnic Lunch: Usually arranged during a full day game outing in the reserve so that one does not have to go back to the lodge or camp for lunch, the meal itself is in the form of packed lunch boxes which are provided by your camp or lodge by prior arrangement the night before to allow them adequate time to prepare the meal boxes. Though the meal itself is typically simple though satisfying, the often scenic setting in the wild makes this a truly memorable meal. Most properties in Masai Mara provide this meal at no extra cost in lieu of lunch in - house.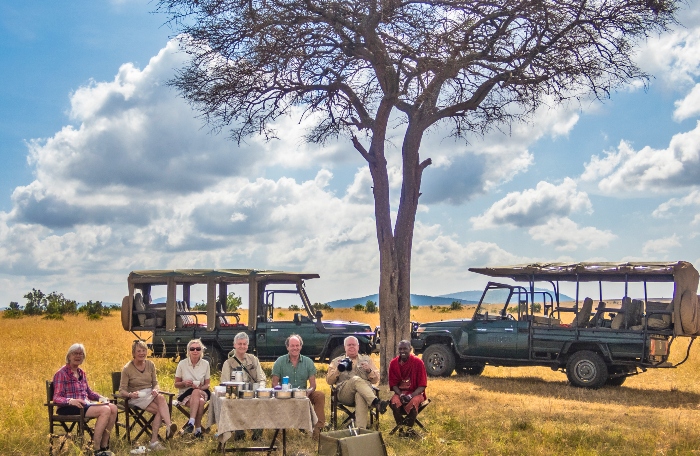 Bush Breakfast & Dinners: A more elaborate meal and in the case of a Bush dinner, this could also be an event in itself around a bonfire with entertainment such as light music or tribal dance performances. Bush meals are arranged at special designated sites within Masai Mara and these are generally located outside of but very near the respective Lodges or Camps. Menus can range from multi-course fine cuisine to more casual bush barbeque meals, prices for these special meals vary widely starting from USD 40 per person all the way to + USD 100 per person for more luxurious bush meals.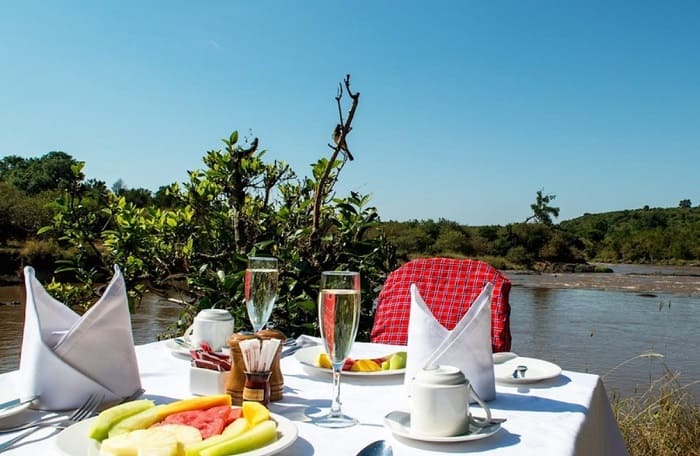 Sundowners: Ending your day on Safari with your favourite drink in hand, the company of friends or loved ones and a gorgeous sunset unfolding right before your eyes is a very special experience indeed and recognizing this, many upper end hotel properties in Masai Mara now offer sundowners either pre-included into your stay or as optional add-on activities.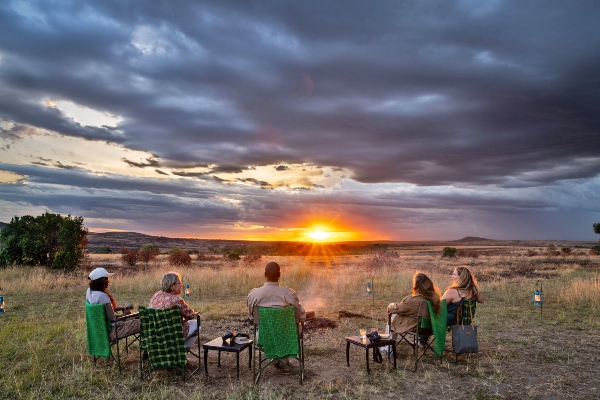 Bush meals in Masai Mara can also be organised for a variety of group sizes and may also cater for certain special dietary requirements such as gluten free, vegan, vegetarian and even restricted vegetarian such as for Indian Jain diets which exclude use of Onions or Garlic as ingredients. Though choices are limited for bush meals, in-house dining at the lodges or camps promises more dietary options. Contact us in case you require specific information on cuisine and dining in Masai Mara.